We want to hear from you!
Please let us know how our coaches are doing by filling out our Coach Feedback form.
BETTER COACHES = BETTER PLAYERS
At North Calgary FC, we fundamentally believe that to have better coaches, we need to provide better coaching support and education opportunities.

The Academy team will provide support to all of our coaches by standardizing our coaching philosophy and creating a curriculum for all coaches to cover throughout the season. Weekly training plans will be provided to each coach that will compliment our Academy sessions for that week and ongoing coach mentoring will be available throughout the season.
COACHING CODE OF ETHICS
All NCFC coaches are expected to follow our Coaching Code of Conduct.
Integrity – The coach must act with integrity in performing all duties owed to athletes, the sport, other members of the coaching profession, and the public.
Competence – The coach must strive to be well prepared and current so that all duties in the respective discipline are fulfilled with competence.
Athletes Interest – The coach must act in the best interest of the athlete's development as a whole person.
Personal Conduct – The coach must maintain the highest standards of personal conduct and support the principles of fair play.
Respect for the Rules – The coach must accept both the letter and the spirit of the rules that define and govern the sport. Therefore the coach is responsible for reading and having knowledge of these same rules.
Respect for Officials – The coach must accept the role of the officials in providing judgment to ensure that competitions are conducted fairly and according to the established rules.
COACH / MANAGER REQUIREMENTS FOR U7-U19
Coaches must be 15 years of age or older. Any coach under 18 must be accompanied by a guardian at all times.
All coaches U9 and up require a CMSA Photo ID Card. These can be obtained through CMSA and are valid for 3 years. The cost for the card is $10 cash (renewals are free / replacements are $10). You must be a registered coach with North Calgary FC and are required to know your CMSA ID Number. Card photos are scheduled by appointment with CMSA directly.
All team officials require a valid police clearance.
All team officials must complete the Respect in Sport online learning module.
All coaches must follow the CMSA Coaches Code of Conduct
All coaches must review the CMSA RULES & REGULATIONS
REQUIRED READING
It's very important for our coaches to stay current on all of these Calgary Minor resources. Please ensure you have read the rules and regulations for each season.
NCFC COACHING TOOLKIT
ACCESS HERE
COACH EDUCATION OPPORTUNITIES
---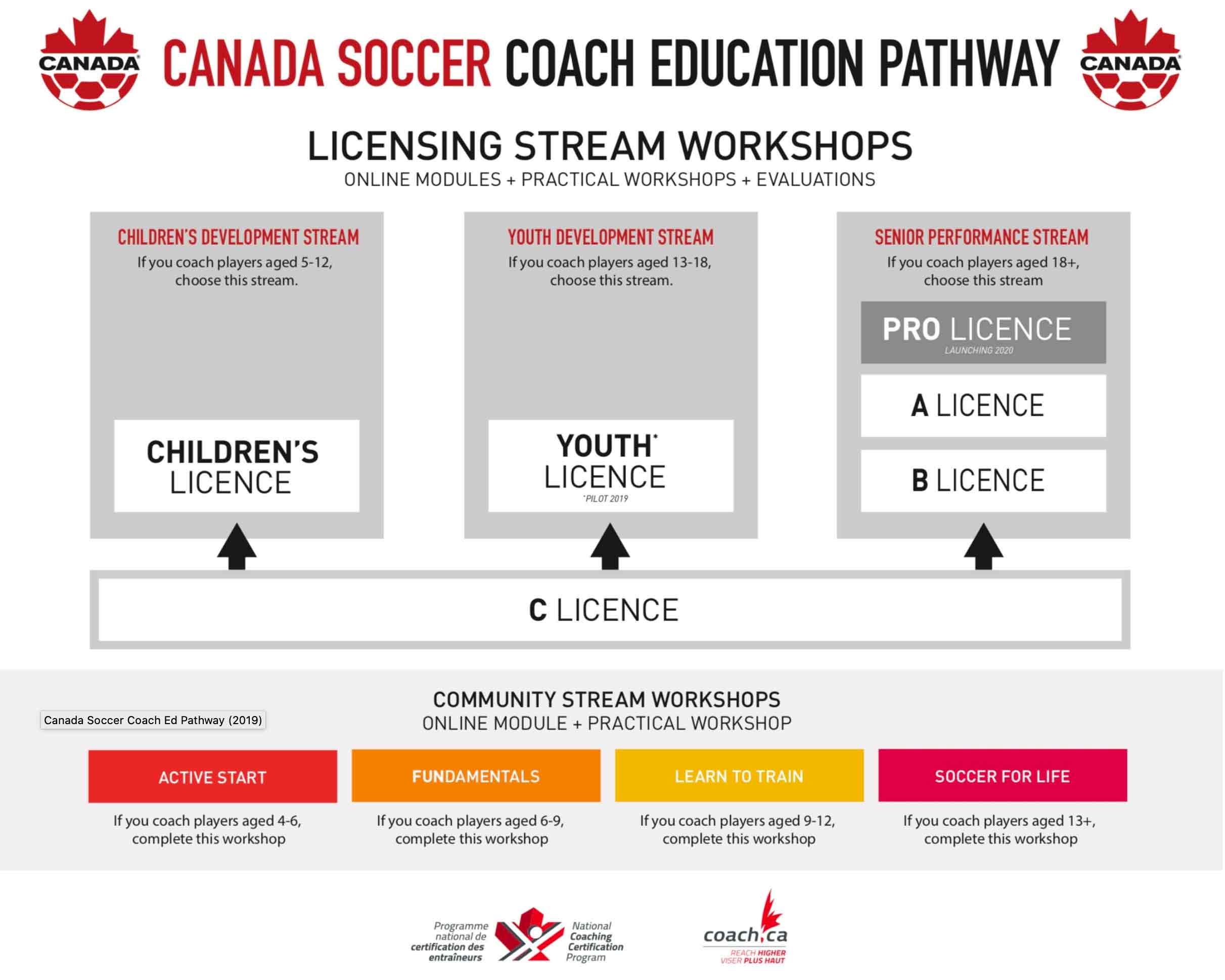 Canada Soccer's Education Pathway starts at the Community Stream Workshops and progresses to the general C Licence, then specific Licenses. More information about this program can be found on
Alberta Soccer's website
SOCCER CANADA COMMUNITY STREAM WORKSHOPS
Age-appropriate training must be based on the needs, interests, and unique characteristics of each age group. Soccer Canada provides Community Workshops for specific age groups that include training tips and suggested exercises for your players to do during practice.
ACTIVE START
U4 TO U6
Soccer contributes to the well-being of children by engaging them in the sport while teaching them basic movements. At this introductory level, the objective is to get them moving and to keep them active. Kids who have fun playing a sport are more likely to stay active and healthy for their entire lifetime. They also have a better chance of becoming a top athlete. So make it fun, and make it quality!
FUNDAMENTALS
U6 TO U9
At this stage, individual player development is paramount. Coaches and teachers should create a stimulating learning environment where the atmosphere is "Freedom and Fun".
LEARN TO TRAIN
U10 TO U12
The role model is very important at this stage. Children begin to identify with famous players and successful teams. They want to learn imaginative skills so skill demonstration is very important – remember: players learn best by "seeing and doing." Players move from self-centered to self-critical with a high stimulation level during basic skills training.

This is also a window to teach basic principles of play and establish training ethics and discipline. Repetitions are important to develop technical excellence, but creating a fun and challenging environment is still essential to stimulate learning.
SOCCER FOR LIFE
U13 TO U19
At any stage in the Long Term Player Development framework, regardless of ability, players may decide to play recreational soccer simply to enjoy the game and maintain lifelong wellness. They may be youth players who decide not to pursue high performance, or they may be top players from senior clubs, colleges, universities, and semi-professional teams who enjoy competition but do not intend to play at the international level. They might also be newcomers to the game who discover an interest in soccer in late adolescence or adult life.
C LICENCE COACHING CERTIFICATE
The Canada Soccer C Licence workshop is the entry level course for the Advanced Coach Education pathway and prepares the coach to progress to the Development Stream (Children), Development Stream (Youth) or Performance Stream (Senior). The Canada Soccer C Licence involves the facilitation of learning opportunities for the coach to develop an understanding of the coaching process. Currently this workshop is being delivered online and requires that coaches reach a minimum standard of competence. Each coach will be assigned tasks to complete throughout the online workshop and will be supported by staff Coach Developers.
To be accepted into the Canada Soccer C Licence, you must be 16 years or older, a Canadian Citizen or Permanent Resident.
Please visit the
Alberta Soccer website
for more info and upcoming courses.
If you are interested in taking your C Licence while you are coaching with North Calgary FC, contact us at coaching@northcalgaryfc.com and we will support you in your coach education.
NCFC is committed to long term player development (LTPD) and to delivering coaching education that enhances the development of coaches and most importantly, players.
We will reimburse the fees for a successfully completed coaching program! If you are a coaching with us, we highly recommend starting with these Soccer Canada programs as early as possible. Visit the
Alberta Soccer website
to sign up for the online theory part of the course.
Please email us at
coaching@northcalgaryfc.com
to start the reimbursement process.